Wij zijn ervan overtuigd dat de gezondheid van de mens en de aarde met elkaar verbonden zijn. Beiden moeten gevoed en beschermd worden.
Onze Danone 2030 doelen hebben we in 2018 gelanceerd. Deze negen lange termijndoelen omvatten Danone's businessmodel, merkmodel en ons model van vertrouwen. De negen Danone 2030 doelen zijn afgestemd op de Duurzame Ontwikkelingsdoelstellingen van de Verenigde Naties waardoor gebruik gemaakt wordt van een gemeenschappelijke taal die universeel begrepen wordt.
Lees hier meer over hoe Danone bijdraagt ​​aan de Duurzame Ontwikkelingsdoelstellingen van de VN.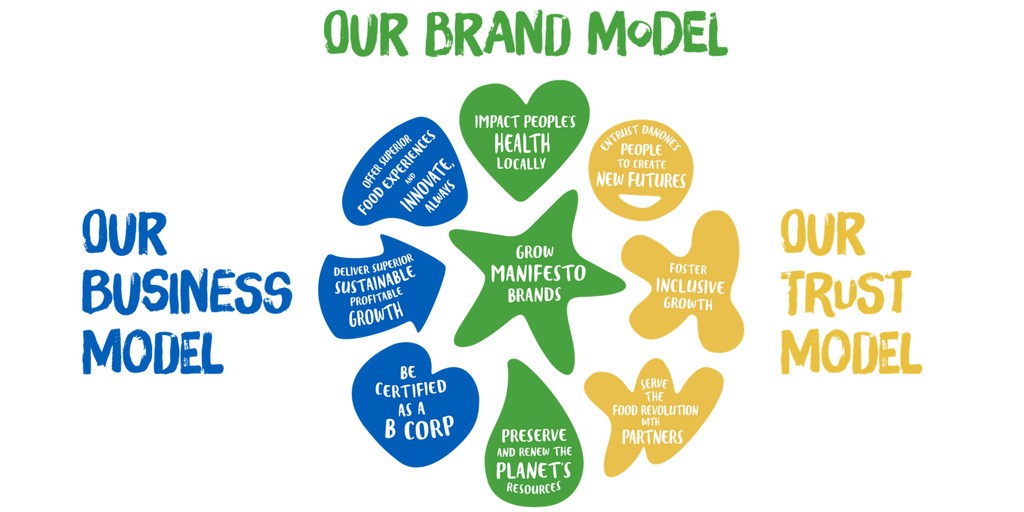 OFFER SUPERIOR FOOD EXPERIENCES AND INNOVATE, ALWAYS

We commit to the highest quality and food safety standards. We stand for sustainably sourced ingredients; for naturality and transparency; and for simple recipes and clean labels. Supported by strong innovation capabilities, we believe these are key fundamentals to create superior food experiences for people, as this will remain the first driver of healthier and more sustainable choices.
DELIVER SUPERIOR SUSTAINABLE PROFITABLE GROWTH

Our ambition is to be the best at embracing the food revolution. We build on a unique health-focused product offering in some of the fastest growing categories, responding to today's and tomorrow's eating and drinking trends. And we build on a strong strategic roadmap around three priorities: accelerate growth, maximize efficiencies and allocate resource with discipline. 
Our ambition to become a Certified B Corp expresses our long-term commitment to create and share sustainable value for all, in line with our dual economic and social agenda. In today's world, big companies and their brands are fundamentally challenged as to whose interests they really serve. B Corp certification is a mark of trust for companies demonstrating high standards of social and environmental performance.
IMPACT PEOPLE'S HEALTH LOCALLY

Our mission is to bring health through food to as many people as possible. We have created a unique portfolio of healthy products to complete this mission, and we strive to continuously optimize their nutritional profile. Also, we build on our in-depth knowledge of local food cultures, food habits and public health challenges to innovate and actively promote healthier alternatives for better choices. Beyond products, we will accelerate on current and new initiatives (programs and services) with partners to impact dietary habits positively.
People are craving change when it comes to their food. At Danone, we believe that each time we eat and drink, we can vote for the world we want. That is why we aim to build purpose driven brands – what we call Manifesto brands - that will act as true activists towards their point of view, not only delivering an exciting experience to people, but also committing to create a positive impact on health and planet.
PRESERVE AND RENEW THE PLANET'S RESOURCES

We strive to be a game-changer to foster positive solutions for the planet. We commit to sustainable sourcing for all our ingredients and to enhance the circular economy of packaging. We will protect soil health through regenerative agricultural practices co-developed with partners and we will even amplify our ambitious water stewardship journey. We play our part in the fight against climate change by implementing carbon positive solutions and aiming to achieve carbon neutrality by 2050. 
ENTRUST DANONE'S PEOPLE TO CREATE NEW FUTURES

Building on our unique social innovation heritage, we will allow each of our employees to co-own our agenda and our Goals, both at global and local level. This will lead us into a new, healthy future for our company, our employees and for our communities.
We will continue to invent pioneering ways to foster inclusive growth for vulnerable partners in our food chain across the world, including family farmers, street vendors and waste pickers. We will keep building sustainable solutions for access to nutrition and safe drinking water for low-income communities. And we will maximize the impact of our social innovation funds through scale and transformation of business practices starting with Danone Communities, the Danone Ecosystem Fund and the Livelihoods funds. 
SERVE THE FOOD REVOLUTION WITH PARTNERS

A food revolution is happening and we choose to serve it. However we cannot do it alone: to change the way food is grown, produced, marketed, distributed, sold and consumed, we need to co-create solutions with others, leveraging their expertise. To do so, we are building on decades of partnership experience to work hand in hand with Danone employees, farmers, suppliers, retailers, consumers and partners as well as civil society, governments and public health professionals. Altogether, we want to be remembered as a driving force of the food generation.